MRI Coils that work, superbly, even at 750 MHz
Doty Scientific has developed new rf imaging coils that are truly unique.  New Simple-tune Litz and Litzcage coils provide extraordinary homogeneity and unmatched S/N. Doty imaging technology is not limited to rf coils.  Doty gradient coils have been used for ten years (mostly in high-field vertical-bore applications), and recent developments include ultra-quiet human-head gradient coils.
Doty imaging coils are supplied in different packaging for several applications.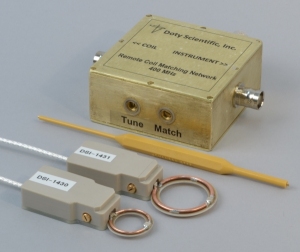 Pre-Clinical Surface Coils. May be Double-tuned.
A few of the many MRI coils and probes we are proud to have delivered.
750 MHz vertical narrow-bore imaging probe with a 19 mm x 18   mm (length), rfLitzcage 

(quadrature) coil.

Primate head imaging 3 T rf Litz coil, 25 cm x 18 cm, double-tuned with multinuclear X 

channel.

20 cm x 25 cm, 200 MHz quadrature 

rf Litzcage 

module for rabbit imaging.

3 T knee 

rf Litz 

coil imaging module, 15 cm x 11 cm.

Rat imaging coil platform with a 50 mm x 30 mm quadrature rf  Litzcage coil. The coil was 

tuned to 200 MHz.