MRI Coils that work, superbly, even at 750 MHz
Any of these coils may be double-tuned ( 1H/f ), where f is a fixed frequency.
Doty Scientific has developed new rf imaging coils that are truly unique.  New Simple-tune Litz and Litzcage coils provide extraordinary homogeneity and unmatched S/N.   Some have thought that Doty Litz or Litzcage coils are made with litz wire.  That is not the case.  An old meaning of the word litz is woven.  The coils, with the Doty patented insulated crossovers, can be thought of as "woven" coils.
Doty imaging technology is not limited to rf coils.  Doty gradient coils have been used for years (mostly in high-field vertical-bore applications), and recent developments include ultra-quiet human-head gradient coils.
Doty imaging coils are supplied in different packaging for several applications.
Links to each type are presented below.
Small Animal Imaging Platforms with removable shield.

Large Shielded RF Research Coil Modules for rabbits, primates, human knees, human head size…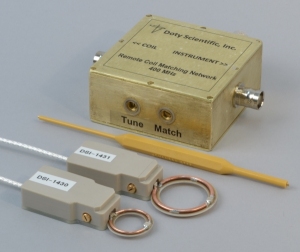 A few of the many MRI coils and probes we are proud to have delivered.
750 MHz vertical narrow-bore imaging probe with a 19 mm x 18   mm (length), rfLitzcage 

(quadrature) coil.

Primate head imaging 3 T rf Litz coil, 25 cm x 18 cm, double-tuned with multinuclear X 

channel.

20 cm x 25 cm, 200 MHz quadrature 

rf Litzcage 

module for rabbit imaging.

3 T knee 

rf Litz 

coil imaging module, 15 cm x 11 cm.

Rat imaging coil platform with a 50 mm x 30 mm quadrature rf  Litzcage coil. The coil was 

tuned to 200 MHz