Simple-tune Pre-Clinical Research RF
Imaging Modules
Small-Animal Litz or Litzcage Modules
MRI coils with best sensitivity, homogeneity, and convenience.
Some have thought that Doty Litz or Litzcage coils are made with litz wire.  That is not the case.  Doty has borrowed the old word litz – meaning woven.  The coils, with the Doty patented insulated crossovers, could be thought of as "woven" coils.
Images
Mouse Brain Images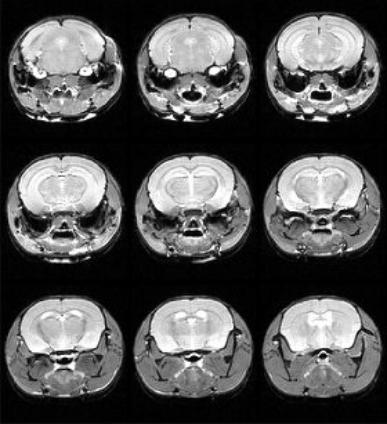 This T2 spin-echo experiment on a live mouse brain using a 2 cm linear Litz coil in a 4.7 T horizontal magnet demonstrated substantially better B1 homogeneity and better S/N than a quadrature birdcage of similar dimensions. The Litz coil easily tuned and matched to any load in less than a minute.
Images courtesy of Dr. Joel R. Garbow, Washington University, St. Louis, MO.