Previous Generation and Specialty Probe Parts
Prices listed are USA Prices.  Foreign prices are higher, plus taxes.
Found on this page:

Volume Discounts For Rotors, Caps and Other Small Items

Previous Generation Single Crystal Holder Cubes (prior to 1998)
Previous Generation High Temp Probe Accessories (prior to 1999)
5 mm Supersonic "Penguin" Probe Accessories

For Large Sample Spinners, (14 mm MAS accessories)

$100 – $ 500

If unsure about correct supplies, contact us with the DSI-serial number.

Please refer to 

rotor main page 

for materials information.
Single Crystal Probe Accessories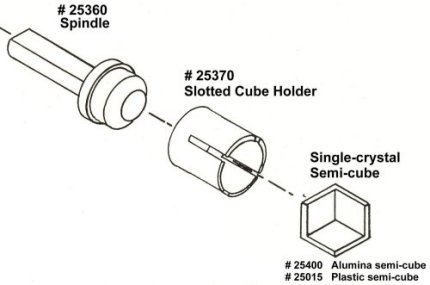 • The Slotted Cube Holder is glued to the Spindle for precise alignment before shipping.
For reference, please look at the picture of the spindle with the slotted cube holder glued on. (Note: one section of the cube holder has been broken off.) If you are missing the spindle, or if it is broken, you must order it as one piece.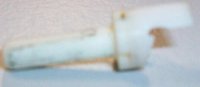 # 25360/25370 Single-crystal Cube Holder with Spindle
• Individual Semi-cubes can be prepared with a crystal glued to one inner face of the semi-cube. The semi-cube can then be inserted in several orientations into the spindle/cube-holder.
| | | |
| --- | --- | --- |
| | | |
| # 25360/25370 | Single-crystal Cube Holder with Spindle | $ 450 |
| | Alumina Semi-cube crystal holder cells | |
| | Vespel Semi-cube crystal holder | |
| | Peek Semi-cube crystal holder | |
High Temp Probe Accessories  
 Previous Generation High Temp Probe Accessories (prior to 1999)
(-100° to 650°C) MAS and Wideline
Silicon nitride high-temp rotor (requires a screw and insert)

Zirconia high-temp rotor (requires a screw and insert).

 Note: Use zirconia high temp rotors 

only

 with zirconia HT spinner assemblies     

High-temp wide-line 

non-spin 

rotor (screw and insert required)

Boron-nitride high-temp rotor insert

  Macor high-temp rotor screw        

Zirconia high-temp rotor screw
5 mm Supersonic "Penquin" Probe Accessories
 

Nominal *

Over-

Size *

Under-

Size *

Rotors

Price

# 42388

# 13261

# 13263

5 mm Penguin/

SS Silicon-Nitride Rotors

 $ 585   

# 42396

# 13262

# 96442

5 mm Penguin/

SS Zirconia Rotors

430

                                                         

# 96441

–

–

5 mm Vespel Extended VT

  Turbine Cap Pairs

220

# 96442

–

–

5 mm Kel-F Extended VT

Turbine Cap Pairs

220

*Nominal-Size Rotors – Satisfactory for full temperature range

 Over-Size Rotors – For best spinning with helium gas at lowest temperatures

 Under-Size Rotors – For best spinning with helium gas at room

  temperature and above