Doty Scientific introduces next generation high performance surface coils for Magnetic Resonance Imaging and Spectroscopy Concentric Loops A better way to make dual-frequency surface coils. Two channel MR probe for both transmit and receive only. Improved sensitivity by 25% at both low and high frequencies. Efficient RF delivery at both frequencies below SAR limitations. Nearly identical B1 field profiles for efficient 1H-decoupling and cross polarization transfer. Uniform B1 homogeneity in the central region. Excellent channel isolation with no traps on both coils. ...
A Simple-tune Preclinical RF resonator for MR Imaging: Efficient, easy to tune and match over a broad range of sample loading. Each channel for TxRx and linearly polarized. For observe / decouple - with both channels used simultaneously. For interleaved acquisitions - with each channel used sequentially. Robust design and mechanical stability. Doty Scientific would like to thank the following researchers for sharing their results: Herrmann K-H 1*, Pechmann N 1,2, Reichenbach JR 1, 1 Medical Physics Group, IDIR, University Hospital Jena – Friedrich-Schiller ...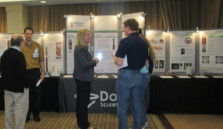 The inside 'scoop' on ENC 2016 Thank you for all who have visited our Booth and Hospitality Suite at the Experimental Nuclear Magnetic Resonance Conference. Hope you enjoyed our Ice Cream Social, and get a chance to meet Dr. David Doty & his team with our newest additions Dr. Bibhuti Das & Deóis Ua Cearnaigh to discuss our latest developments including the Magic Angle Gradient MAS. ENC Poster 399 "A ...
Doty Scientific is pleased to introduce new members in our NMR team NMR Applications Scientist, Dr. Bibhuti Das Bibhuti received his Ph.D. in Physics, specializing in development and applications in solid state NMR spectroscopy, from the Indian Institute of Science in Bangalore, India. After that he received a Postdoctoral Fellowship and then Project Scientist position, both at the Univ. of California, San Diego. His experience includes developing new methodologies for rapid data ...
Coupling field gradients and NMR spectroscopy brings to mind various types of experiments for spatial localization, coherence selection, and solvent signal suppression. In solid state NMR, gradients in combination with magic angle spinning (MAS) can also be utilized in this same manner. However, the use of gradients and MAS has seen a resurgence with quasi-solids (that is, a solid (or semi-solids) that has limited overall mobility, or, rapid internal mobility). ...
We begin a series of articles on "Guide to Simulating NMR Probe Circuits". We will strive to keep the perfect balance between in-depth, tutorial, and detailed. We plan to present many state-of-the-art circuits of interest to researchers in liquids and solids NMR and MRI over the next several years. This series, which will include circuit simulation files ready to run (if you have a Genesys license), will be fully available on our website, and a brief summary of each article ...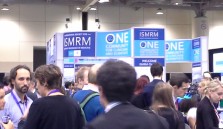 The International Society for Magnetic Resonance in Medicine (ISMRM) is a multi-disciplinary nonprofit association that promotes innovation, development, and application of magnetic resonance techniques in medicine and biology throughout the world. We are proud to be exhibiting at the ISMRM 23rd Annual Meeting in Ontario, Canada this week. Make sure you visit the DOTY Scientific Booth # 708 to learn the latest in our MRI Coils, Small Animal Imaging Platforms & Vertical Bore Imaging technologies.
Dr. David Doty will be delivering a talk at the SEMRC on the Doty Scientific's recent progress in two major development projects - a novel cavity for H/X/Y DNP promising huge gains in microwave efficiency, and a CryoMAS-DNP probe capable of closed-loop spinning with helium gas down to 30 K, for enormous gain in S/N compared to prior MAS-DNP technology. The talk will include the latest NMR test data, showing success in what has been an epic journey over the ...
We're happy to introduce you to our newest staff member Xiaotong Sun. Xiaotong joined us at the end of December from Auburn University, in Auburn, Alabama, USA. Xiaotong had been building MRI RF coils at Auburn so he fit right into our MRI department. Xiaotong already got familiar with Doty preclinical primate MRI RF coils, and even built a few NMR probes. He is also assisting J.B. Spitzmesser on the ...
No need to 'Panic' – It's almost ENC Time! The PANIC Conference (Practical Applications in NMR in Industry) in Charlotte, NC in February lived up to the title. Laura reported that the scientific program was well organized with stimulating topics presented in talks, workshops, and poster sessions. Attendee numbers doubled from last year. Thanks to everyone who stopped by to discuss products or say hello to Laura Holte. It's that time ...