posted by:
Judy Doty
| category :
Uncategorized
| comments :
Comments Off

on Small and Large MRI RF Research Coils for Mice, Rats, Rabbits, Primates…
Shielded  1H and 1H/C dual-frequency coils are available.  Open platforms with removable shields are also available. The following larger 3T coils are available with quick delivery:   Click for more Information.  1H/13C  27.5 cm dia  x 26.5 cm lgth  1H 18 cm dia  x 18.5 cm lgth 1H 16 cm dia x 18.5 cm lgth Any of these coils may be double-tuned (1H/f), where f is a fixed frequency.  Our research "Knee" or "Head" ...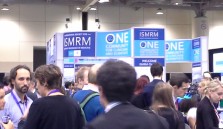 The International Society for Magnetic Resonance in Medicine (ISMRM) is a multi-disciplinary nonprofit association that promotes innovation, development, and application of magnetic resonance techniques in medicine and biology throughout the world. We are proud to be exhibiting at the ISMRM 23rd Annual Meeting in Ontario, Canada this week. Make sure you visit the DOTY Scientific Booth # 708 to learn the latest in our MRI Coils, Small Animal Imaging Platforms & Vertical Bore Imaging technologies.